Welcome to the Tiverton Historical Society website!
Follow us on Facebook!
We are based in the small town of Tiverton, Rhode Island, the smallest state in the USA.
OCTOBER EVENT: SPEAKEASY FUNDRAISER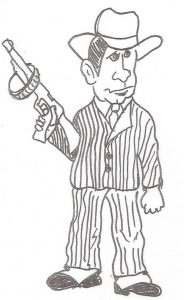 You'd better mark Saturday, October 14th from 6 to 10 PM on your calendar for a fun-filled evening of food and entertainment at the Tiverton Rod & Gun Club, 1529 Fish Road in Tiverton. Tickets are $30 each or $50 per couple, and include an au jus pot roast dinner. A cash bar will be available. (This event is for adults only, given the topic.)
Come to the SPEAKEASY to hear tales of rum running (or tell us yours). Learn the Charleston from Center Stage Dance Studio. Dress in the style of the 1920's (optional) to get the true feel of the era. The Halloween stores and Savers have a great supply of gangster and flapper costumes!
No tickets will be sold at the door, and seating is limited, so get your tickets by October 6th in Tiverton at Gray's Ice Cream (Tiverton Four Corners), Tiverton Sign Shop (1031 Stafford Road), Manchester's Garden Shop (2970 Main Road), or send a check made payable to Tiverton Historical Society, P.O. Box 95, Tiverton 02878 and your tickets will be mailed to you.
We hope to see you there. We would appreciate your support of the Tiverton Historical Society. We'll give you the password to get into our Speakeasy when you purchase your tickets. We'll have raffles, music, and more surprises in store for you!
**************************************************************************************************
TIVERTON HISTORICAL SOCIETY ITEMS FOR SALE AT GRAY'S ICE CREAM
If you're in the vicinity of Gray's Ice Cream next door to our Chace-Cory House headquarters, take some time to go inside and see what we have for sale in the store to the left – we have an old post office desk loaded with Tiverton goodies, including Tiverton t-shirts, hats, books, calendars, and jams & jellies. So if we're not open at Chace-Cory, you can still buy some great gifts at Gray's! See what's there on our Marketplace page.
HELP US RESTORE THE HOUSE & CORN CRIB!
Drive by and you'll also get to see for yourself how we need to finish restoring the trim on the house and the entire corn crib. We've come a long way these past few years in restoration, but we need to continue with your help now that we are officially closed for summer tours.
In addition to the small fee we charge for the tours of our circa 1730 house museum (see below), we need more than that to restore the corn crib. Building materials cost a lot of money, as those of you who own homes know. Any monetary donation will help! Please send what you can to the PO Box listed on the "Contact THS" page or drop by when we're open on Sundays through August (2-4:30) or at our informal Friday night Board meetings (4-5:30) April through November.
*******************************************************************************************************
We invite you to visit the historical circa 1730 Chace-Cory House, located at 3908 Main Road at Tiverton Four Corners, over the wall from Gray's Ice Cream. The museum house is open for tours from 2-4:30 PM on Sunday during the summer months of June, July, and August (or by appointment) and is the headquarters of the Tiverton Historical Society. We sponsor a number of events throughout the year and welcome you to participate in them. In order to keep the roof over our head maintained, we need to charge a small fee for tours. Admission is free to Tiverton Historical Society (THS) members and children under 12 years, $3 for non-members, and $2 for students and seniors (55 years+). Directions
*************************************************************************************************
We accomplished a lot in 2016: THS Accomplishments 2016
Thanks to all our volunteers and supporters who made it a great year for THS!
Please continue to help us in 2017 and make it even greater!
~~~~~~~~~~~~~~~~~~~~~~~~~~~~~~~~~~~~~~~~~~~~~~~~~~~~~~~~~~~~~~~~~~~~~~~~~~~~~~~~~~~~~~~~~~
The Tiverton Historical Society is a 501(c)(3) non-profit organization, with its headquarters in the Chace-Cory House. Members and donations are always welcome! Check out our Support THS page to see what items and services we need . . . those needing community service hours can download a log sheet as well.
Please forward any comments or suggestions on this site to webmaster@tivertonhistorical.org.